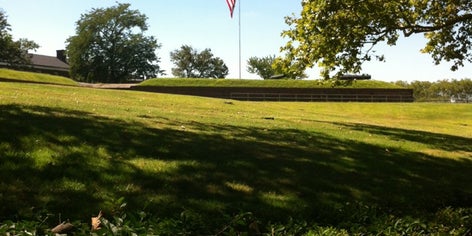 Governor's Island
Neighborhood: Governor's Island?
Venue: Island
Atmosphere: Island feel
Crowd/Scene: Typically family-oriented
Foursquare Check-in: http://4sq.com/167G3qL
Rating: 3 Stars
It's about damn time!
I've been meaning to go to Governor's Island since 1922. I mean it is absolutely ridiculous, that it was not until my 11th year in New York City that I managed to get here. Granted, Governor's Island did not open up to the public until 2003, a year after I moved to New York City to go to college. But let's be honest, I wouldn't have made the trek here during my travel-stagnant freshman days in college either.
But I digress. My time at Governor's Island was certainly worth the wait. I didn't do anything too special. It was just me and a few friends that decided to take part in an outdoor gathering that involved food, beverages and a prenatal celebration of sorts.
What I did get to do there was take in some of the scenery. They have a huge park, where most of their summer events and concerts take place. They also have a sculpture made entirely out of plastic bottles, which while debatably worth the trek across the Hudson to get there, seeing other people confounded by the sculpture was certainly worth some people-watching–at least for a few minutes.
So again, not much to report on Governor's Island, as I went there on one of the few days during the summer in which there wasn't some grandiose and spectacular event going on. But I will be back next summer, either for one of those grandiose events or maybe even to start an annual event of my own. We shall see!